Knox City Police Department
Harold L. Smith, Chief of Police
574-772-4122
knoxpolice@cityofknox.net
The Knox City Police Department is dedicated to serving and protecting the citizens of Knox, Indiana.
Knox City Police
120 N. Shield St.
Knox, IN 46534
Administrative Office Hours:
8:00 AM - 4:00 PM CST
Monday - Friday
(Closed Holidays)
Submit an Anonymous Tip
Submit an anonymous tip to the Knox City Police Department. Download our free app, text us your tip, or submit a tip online.
Important Links
Contact Us
For general inquiries, please fill out the form below. DO NOT use this form if you want to submit an anonymous tip or sending sensitive information.
---
Knox City Police Officers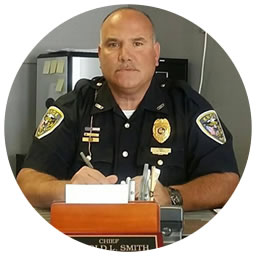 Harold L. Smith, Chief
Chief Harold L. Smith has been with the department since January 1, 1994. He has spent most of his life in Knox and graduated at Knox Senior High School in 1985. Chief Smith attended the Indiana Law Enforcement Academy (I.L.E.A) in October of 1989. he has served as Patrolman, Corporal and Sergeant.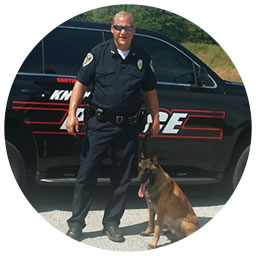 Chad Dulin, Sergeant
Sergeant Chad Dulin has been with the department since May 30, 2006. Sergeant Dulin is also the Knox City Police Departments K-9 Officer. Contact Sergeant Dulin at cdulin@cityofknox.net.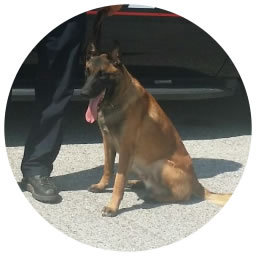 O'Neill, K9
K-9 O'Neill joined the Knox City Police Department in 2016. O'Neill was purchased from Vohne Liche Kennels and is a certified dual-purpose K-9 specializing in Narcotics and Tracking. O'Neill is s direct import from the Netherlands and has a training background in the areas of IPO also known as Schutzhund (the German word for "protection dog"). This training is a sport intended to demonstrate the dog's mental ability, endurance, structural efficiency, ability to scent, willingness to work, courage, and training ability. IPO consists of three distinct phases: tracking, obedience, and protection.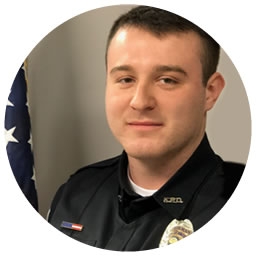 Patrick McKee, Patrolman
Officer McKee has been with the Knox City Police Department since October 17, 2018. He is a life-long resident of Knox and graduated from Knox High School in 2016. He worked a year at the Starke County Sheriff's Department before becoming a Patrolman for the Knox City Police Department. Contact Officer McKee at pmckee@cityofknox.net.

Travis Schieber, Corporal
Corporal Schieber, also known as "Officer Travis", is assigned to the Knox Community Schools as a School Resource Officer (SRO) in addition to being the department training officer. Corporal Schieber has over a decade of Law Enforcement experience and continues to serve in the US Army Reserves, and has done so for the last 15 years with two combat deployments overseas. Corporal Schieber is married with 3 children and holds a bachelor's degree from Purdue University in Criminal Justice. Contact Officer Schieber at tschieber@cityofknox.net.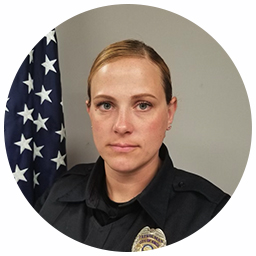 Ashely Vandemark, Patrolman
Officer Vandemark is a 2004 graduate of the A.K. Smith Career Center in Laporte County. She earned a Bachelor of Science Degree in Criminal Justice and Criminology from Southern New Hampshire University in 2018. She was a mechanic and CBRN manager in the U.S. Army from 2015 until 2018. Contact Officer Vandemark at avandemark@cityofknox.net.

Nick Brown, Patrolman
Officer Brown, a graduate of Washington Township HS, is a lifelong resident of Valparaiso where he resides with his teenage son. Officer Brown has over a decade of law enforcement experience with training and certifications that include criminal investigations and highway drug interdiction. Contact Officer Brown at nbrown@cityofknox.net.