Knox Street Department
Jeff Borg, Superintendent
101 West Washington Street
Knox, IN 46534
Phone: 574-772-3032
knoxmvh@cityofknox.net
Hours
Monday - Friday
7:00 AM - 3:30 PM CST
Closed Saturday and Sunday
Job Opportunity
Click here for more information about this job opportunity with the City of Knox Street Department.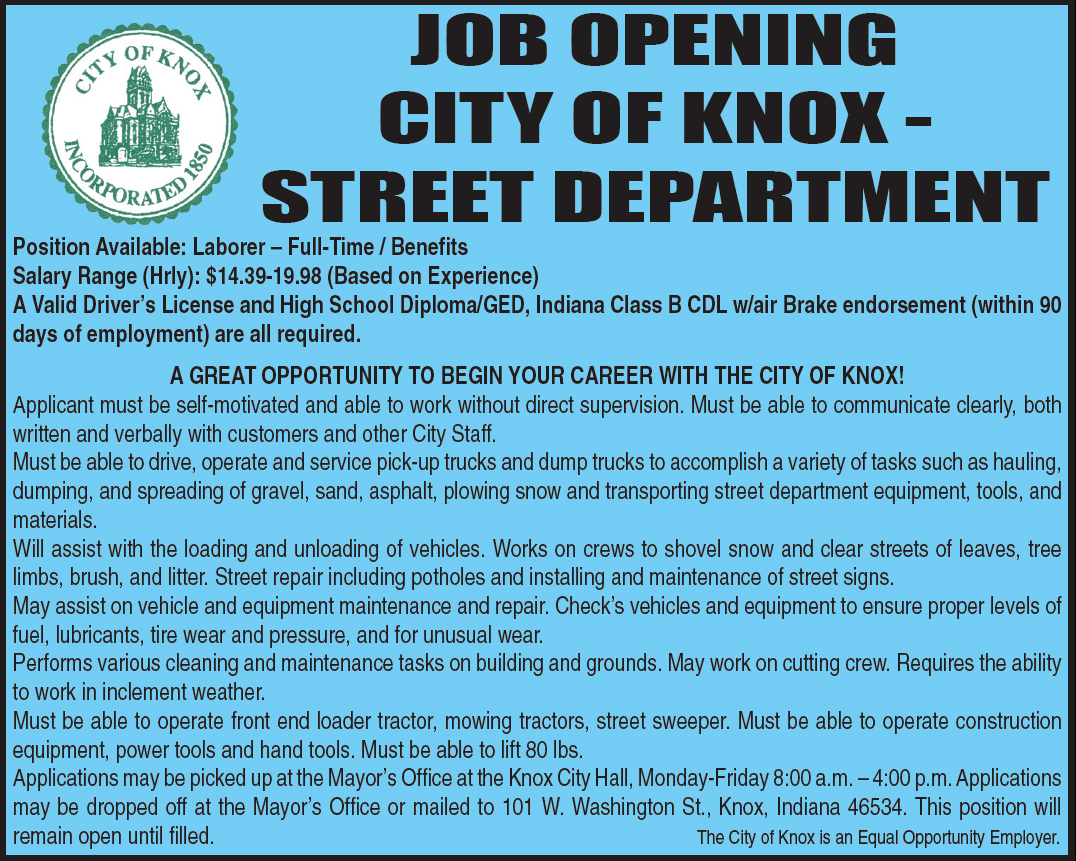 Contact Us
Fill out the form below to send a message to the Knox Street Department. We will get back with you as soon as possible.
Responsibilities
The Street Department is responsible for the following:
Maintaining streets and rights-of-way within city limits
Roadside mowing
Tree trimming and removal
Roadside trash pickup
Street sweeping
Paint striping
Asphalt paving and patching
Alley grading and stoning
Leaf collection
Brush pick-up, snow plowing and removal
Erect, replace and maintain signs
Service and repair all equipment
For Questions or Concerns call the Clerk-Treasurer's Office:
Monday - Friday
8:00 AM - 4:30 PM CST
Phone: 574-772-3032
Things to Know
The city will pick up and remove brush every Thursday for residents that do normal pruning of trees and bushes.
A compost facility is located north of City Hall at the corner of Shield and Mound St. where grass clippings, leaves and brush can be dropped off. MUST NOT BE IN BAGS.
Wood chips and composted humus can be picked up next to the salt shed also located by compost drop off site.
Leaf collection usually starts the 2nd week in October and runs through Thanksgiving. A spring leaf collection is done on the first week in April and again in May. Leaves should be raked next to curb in street in long row (not alleys).
To cut and excavate in a city street or alley you must first apply for a permit at the clerk treasurers office located in city hall.
STREET SWEEPING: It shall be unlawful for the owner, driver or operator of any vehicle to park or stop a vehicle or to permit his vehicle to be parked or stand at any time on TUESDAY between the hours of 4:00 a.m. and 8:00 a.m. from May through September, on the following streets: Shield Street from Washington Street to Culver Road, Main Street from Washington Street to Culver Road, Pearl Street from Washington Street to Culver Road, Washington Street from Heaton Street to Shield Street, and Lake Street to Shield Street. Any violation of the street sweeping route shall be subject to the same penalties of ordinance 914 Sec. 9-444-9-446.