National Day of Prayer Breakfast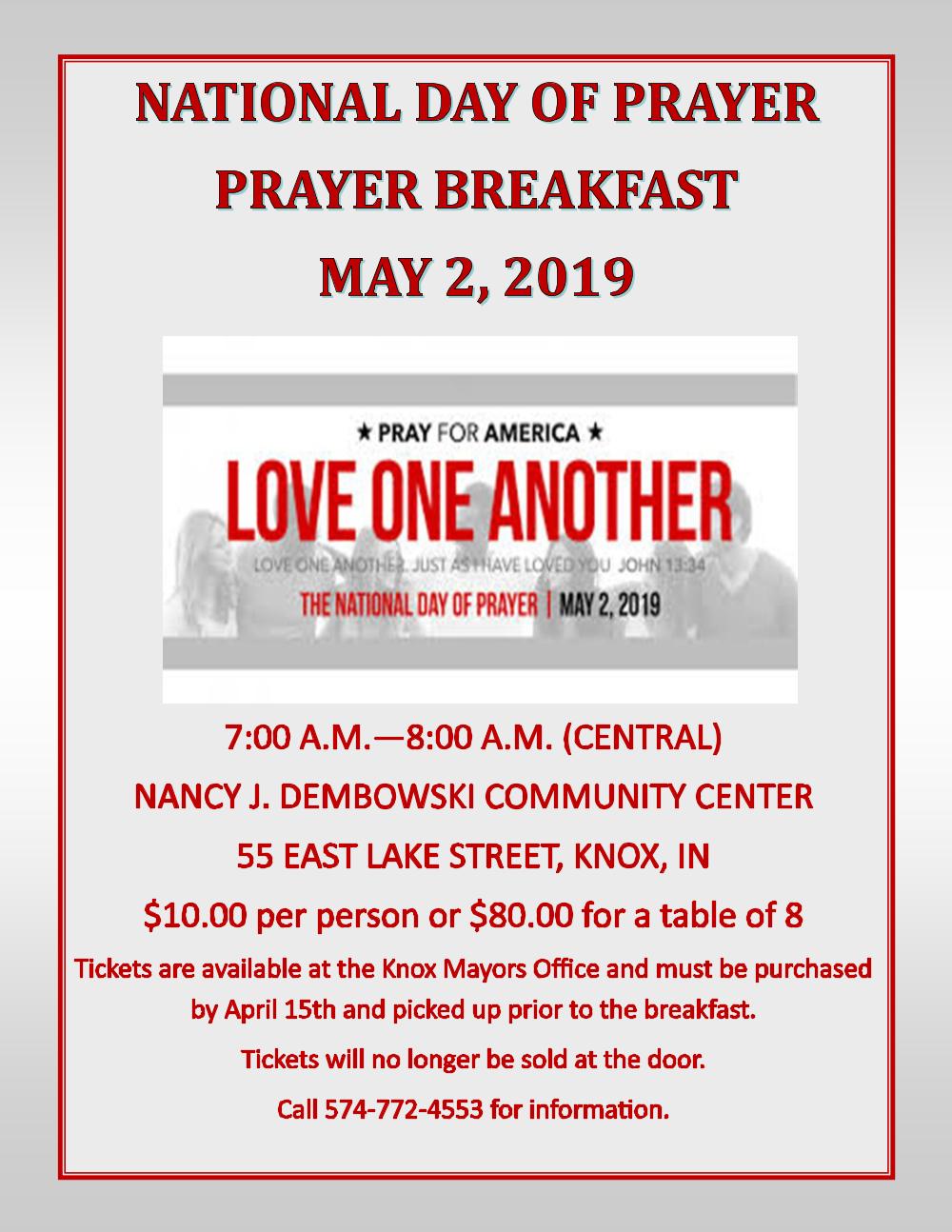 2019 Prayer Breakfast Notice
To All Starke County Churches, Organizations & Interested Businesses
Dear Friends, The City of Knox will host the National Day of Prayer Breakfast on Thursday, May 2nd at the Nancy J. Dembowski Community Center at 7:00 a.m. – 8:00 a.m. CST. This will be the 67th year to nationally recognize one day where millions of people will unite in one voice to pray for our nation, its leaders and citizens.
The National Day of Prayer is an annual observance held on the first Thursday of May, inviting people of all faiths to pray for the nation. It was created in 1952 by a joint resolution of the United States Congress and signed into law by President Harry S. Truman. The theme for this year "Love one another, just as I have loved you." JOHN 13:34
Our guest speaker will be Mark Bailey, owner of Bailey's Discount Center. He has lived in Starke County all his life. Mark is a 1983 graduate of North Judson/San Pierre High School, and married his high school sweetheart, Debby, shortly after graduation. They have been married 33 years and together have raised 8 children and are now enjoying their 6 grandchildren. Mark opened and has been the President of Bailey's Discount Center since 1985. Along with his enjoyment and love of running his business, Mark also has many other passions and hobbies. Having adopted 4 children, 3 international and 1 domestic, Mark is an advocate for the sanctity of life, the unborn and adoption. Mark and Debby are also actively involved in a nationwide organization dedicated to the care and welfare of children of families in crisis called Safe Families. Mark enjoys the great outdoors through camping, hiking, biking, canoeing and backpacking through many of the States and National Forests all over the United States with his family. Mark and Debby are active members of Calvary Baptist Church in Knox, Indiana. They are involved in and partner with many organizations that promote and preach the Gospel of Jesus Christ.
Charlie Adams, former sports anchor for many years at WSBT-TV in South Bend and current morning radio personality at WKVI K99.3 FM, will be our Master of Ceremonies.
The breakfast will be catered by Christo's Family Dining and the event will end promptly at 8:00 a.m. If you need to leave early, that is fine.
PLEASE NOTE THAT TICKETS WILL NO LONGER BE SOLD AT THE DOOR. Tickets are $10.00 per person or $80.00 for a table of 8 and may be purchased by completing the form below and returning it by April 15th to:
Peg Travis, Ticket Chairperson
c/o Mayor's Office
Knox City Hall
101 West Washington Street
Knox, Indiana 46534
574-772-4553
TICKETS MUST BE PICKED UP AT THE MAYOR'S OFFICE BETWEEN 8:00 A.M. – 4 P.M., PRIOR TO THE EVENT AND PRESENTED UPON YOUR ARRIVAL TO THE BREAKFAST. TICKETS WILL BE LABLED WITH THE CHURCH, BUSINESS OR INDIVIDUAL NAME, PLEASE BE SURE YOUR TICKETS ARE DISTRIBUTED TO YOUR GUESTS.
Date Published: 2019-03-06 13:16:00